Cambodia, a country in Southeast Asia known to be alluring travelers with its temple ruins that prettify the landscape. The temples in Cambodia have tales to narrate, but most importantly they stand as architectural gems. The rock cut art and carvings in these landmarks have their own old world charm, something that will urge you to capture for lifetime.
This blog features a list of stunning Cambodia temples, which you must visit during your trip to the country. As you read, you will also get to know important details regarding each of it while exploring the Cambodia temples history. So, let's begin!
1. Angkor Wat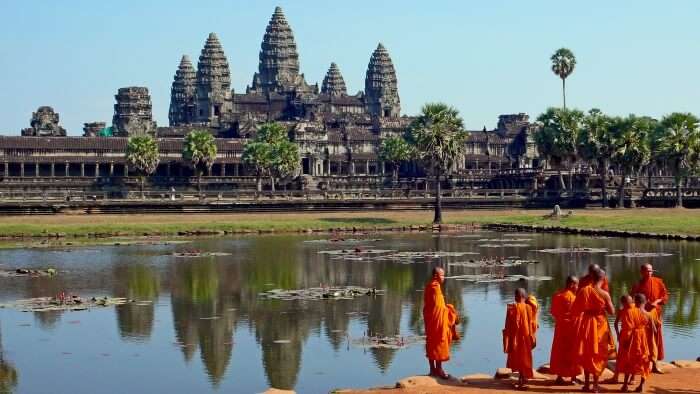 Image Source
Of course, our list of Cambodia Temple had to be kicked off by this one. This is a star attraction of the country which is among the biggest temples and the best preserved ones. As the reflection of this Khmer archaeological gem falls on the reservoir next to it, it weaves a vista to admire. Once you enter the outer gallery, a series of stone sculptures will greet you, depicting various episodes from Hindu epics Ramayana and Mahabharata. Even the ornate pillars will leave you in awe, the sheer precision of carving and the artistry is something that deserve a special mention. This is indeed one of the best places to visit in Cambodia!
Location: Krong Siem Reap, CambodiaTimings: 5AM-6PM
2. Banteay Srei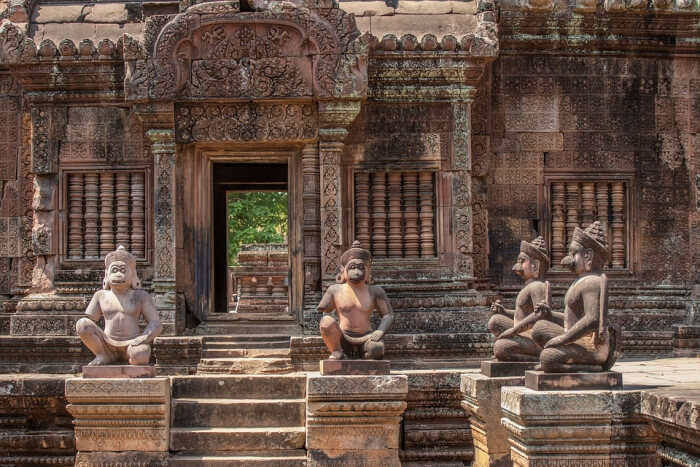 Image Source
Often referred to as the art gallery of Cambodia, Banteay Srei is a Cambodia Hindu temple that is indeed confined in size, but the artistry which you will witness are beyond perfection. This ornate ruin is beautified with motifs, figures of gods, and detailed carving. The temple is dedicated to Lord Shiva, and is the only temple in Angkor which was not commissioned by a ruler, but a Brahmin. It dates back to 10th century and was among the first temples which were restored in Angkor.
Location: Siem Reap, Cambodia
Suggested Read: These Siem Reap Floating Villages In Cambodia Will Cast You Away Into A Surreal World
3. Neak Pean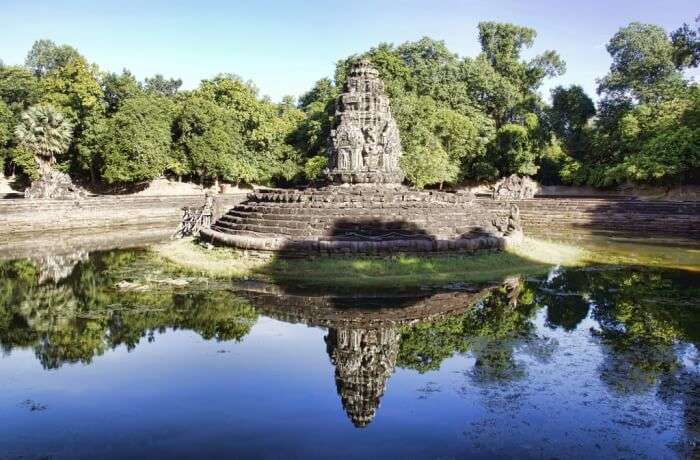 Image Source
Indeed a tiny temple, Neak Poan is sits amid a small artificial lake. The name, Neak Pean literally translates to 'entwined serpents' and as many historians believe the structure and its surrounding represent Anavatapta, which is a mythical lake said to have water with medicinal properties. This Cambodian Buddhist temple is closely associated with Preah Khan Temple as well. As you cannot enter inside the temple, this is rather a sight to admire. So, you may skip a visit if you do not have much time in your hands.
Location: Krong Siem Reap, CambodiaTimings: 5AM-6PM
Must Read: 15 Stunning Cambodia Monuments That Should Be On Your 2022 Bucket List
4. Banteay Kdei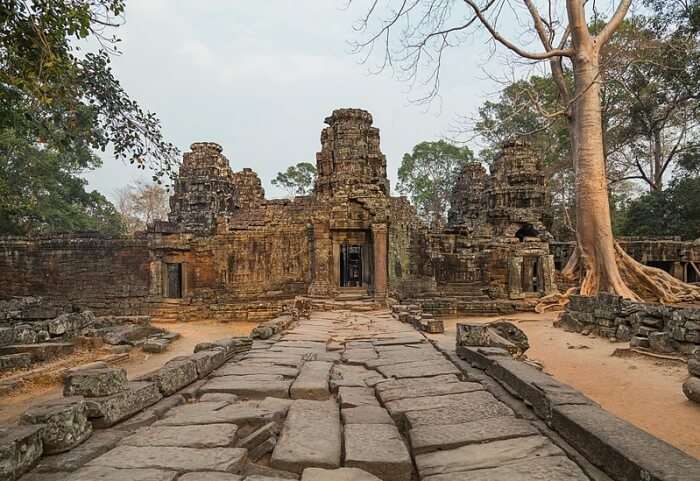 Image Source
Built during the twelfth century, Banteay Kdei will mesmerize you with its ornate garudas. Also called the Citadel of Chambers, the temple was beautified with sculptures of women. Today is lies in ruins and is usually less crowded, making it a perfect spot for a tranquil time. The temple can be explored within an hour and it is suggested that you must also visit Sra Srang, the pool of ablutions.
Location: Angkor Archaeological Park, Krong Siem Reap 17000, CambodiaTimings: 7:30AM-5PM
Suggested Read: 18 Best Things To Do In Phnom Penh On Your Vacay To Cambodia In 2022
5. Ta Prohm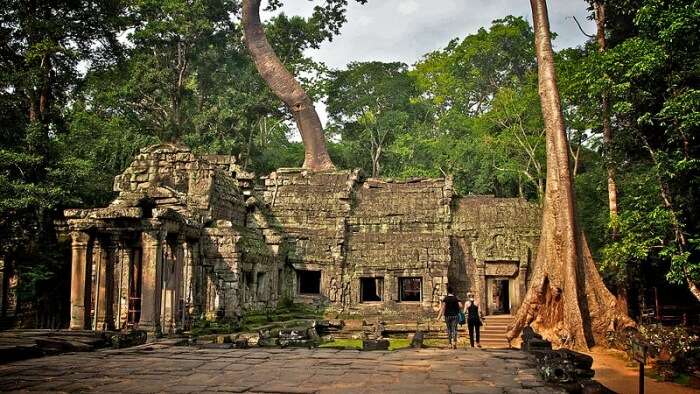 Image Source
Another of the most photographed temples in Cambodia, Ta Prohm is recognized by its labyrinth pattern of roots that cover the structures. It actually may seem to you like an octopus is holding on to something dear to it. According to a Sanskrit stone sculpture, the details of its authorities were once portrayed in the walls of the temples. As you amble through the premises, you'll witness how nature has dominated man made remnants; but this blend is something that makes Ta Prohm stand out.
Location: Angkor Archaeological Park, Krong Siem Reap, CambodiaTimings: 5AM-6PM
Suggested Read: Museums In Siem Reap: 5 Museums That Depict The History Of Cambodia
6. Bayon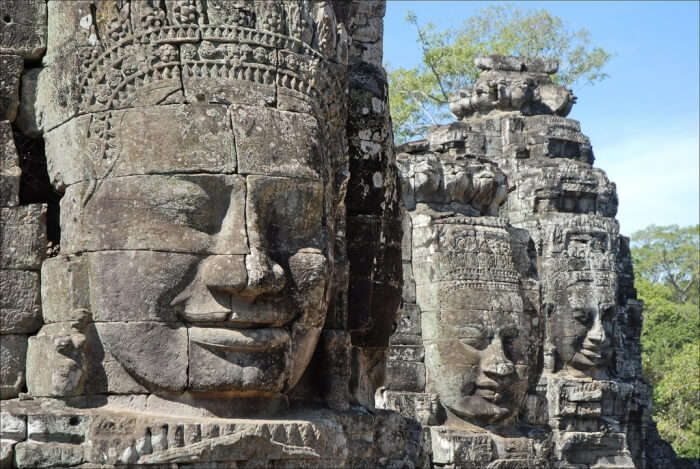 Image Source
The Cambodian temple ruins are intriguing in itself and Bayon will grab all your attention with its rock-cut sculpture of faces. It is believed that these sculptures represent Avalokitesvara (Bodhisattva of compassion), but since some scholars spotted resemblances to King Jayavarman VII, it is also said the king thought of him as a god king. The temple is located amid dense junges with no wall or moat encircling it. This was a rather unique aspect comparing with other Cambodia temples, but later the scholars realized Ta Prohm actually marks the center of the city of Angkor Thom.
Location: Angkor Thom Angkor Archeological Park, Krong Siem Reap, 17000, CambodiaTimings: 7:30AM-5:30PM
Suggested Read: 30 Exciting Things To Do In Cambodia For A Truly Refreshing Retreat In 2022
7. Banteay Samre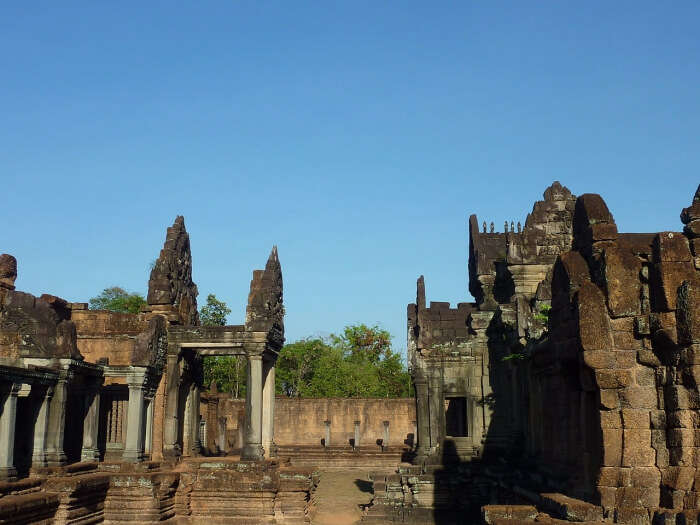 Image Source
Banteay Samre showcases the unity of Hinduism and Buddhism. It was built in the same period as Angkor Wat and you can indeed find similarities in features such as the style of towers and balustrades. Today, Bayon stands in brilliant condition without the charm of its intricate carving faded away, thanks to careful restoration work. Banteay Samre is located away from other temples in Cambodia and hence you'd find fewer people here; good news for the travelers looking for rather peaceful tourist attraction.
Location: 17000 Sok San Road, Krong Siem Reap, CambodiaTimings: 7:30AM-5:30PM
Suggested Read: 10 Cambodia Beaches & Islands For A Laid-back Retreat
8. Phnom Bakheng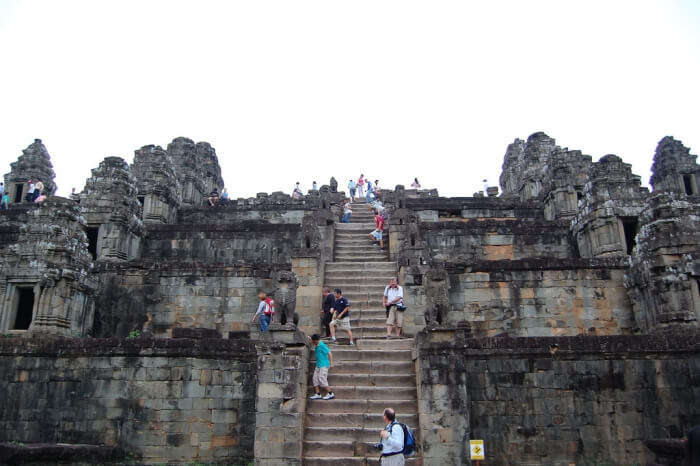 Image Source
A temple that is about two centuries older than Angkor Wat, Phnom Bakheng stood as architectural landmark for the first capital of Khmer Empire, Yasodharapura. The five-tiered shikhara of the temples catches the eye and so do the four towers established on the summit. The temple is primarily visited during late afternoons by many tourists as it serves for a magnificent vantage point for sunset views.
Location: Angkor Archaeological Park, Krong Siem Reap 17000, CambodiaTimings: 7AM-6:30PM
Suggested Read: 10 Most Popular Festivals In Cambodia: An Insight Into Its Rich Culture In 2020!
9. Preah Khan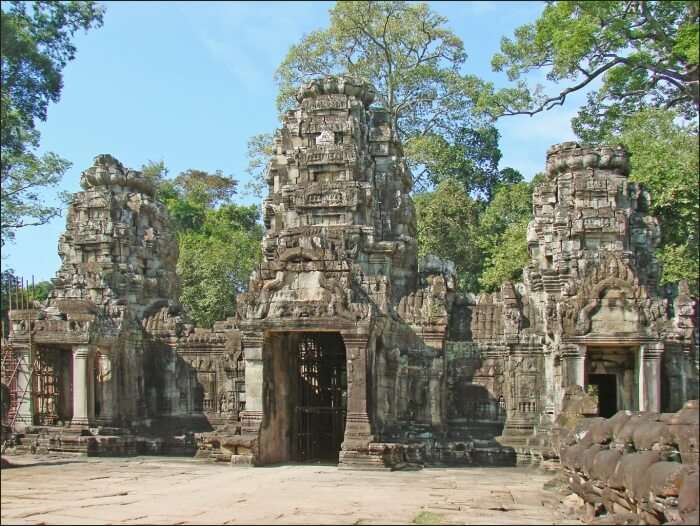 Image Source
Preah Khan used to serve as a holy shrine for the followers of Hinduism and Buddhism. The temple was built by King Jayavarman VII in the twelfth century, marking the defeat of Chams. As the name Preah Khan literally translates to Holy Sword, we can imagine the pride the king took in the event and the building of the structure. It is also believed that Preah Khan served as a residence to the king as he waited for Angkor Thom to be completed. This was indeed a grand Cambodia temple as it was dedicated to about hundred gods and there were eighteen grand festivals it served as venue of.
Location: Krong Siem Reap, CambodiaTimings: 7:30AM-5PM
Suggested Read: 18 Best Things To Do In Phnom Penh On Your Vacay To Cambodia In 2022
10. Pre Rup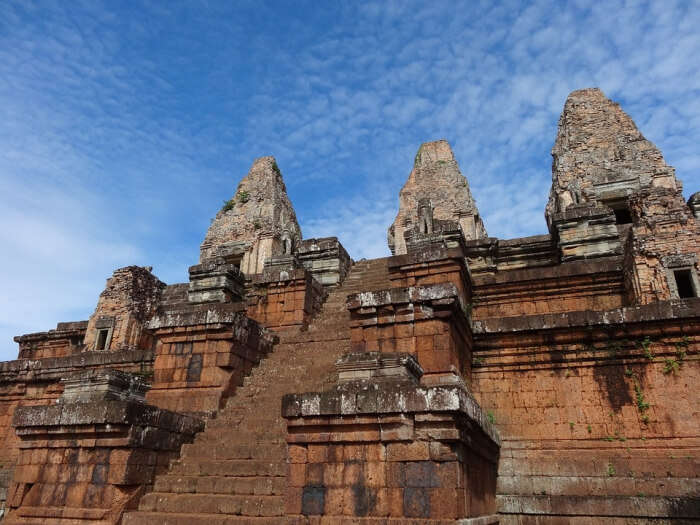 Image Source
Formerly served as king's state temple, Pre Rup was built in 961 by Rajendravarman II. This Hindu temple in Cambodia is dedicated to Lord Shiva and has been associated with funerary rituals. Though it was built using grey sandstone which were rather delicate and most of the temple has somehow failed the test of time, you would be able to see detailed intel carving when on the South-west Tower. This place is specifically popular for delightful sunset views.
Location: Angkor Archaeological Park, Krong Siem Reap 17000, CambodiaTimings:
Further Read: The Cambodia Nightlife Guide: Pubs, Diners, Shops, & More
Wish to set foot on these, without hassles and in an ideal budget?! Well, plan a cultural getaway and enjoy a relaxing Cambodia holiday with Travel Triangle and prepare for a lifetime experience.
Frequently Asked Questions About Cambodia Temples
Q: How many temple are in Cambodia?
A: There are around 4000 temples in Cambodia, out of which most of them are located at Siem Reap, Battambang, Preah Vihar, and Kampong Thom.
Q: How old are the temples in Cambodia?
A: The temples in Cambodia are around 900 years old and till date these temples holds a great importance and reflects the history of the country.
Q: What is the famous temple in Cambodia?
A: Angkor Wat is the most famous temple in Cambodia which attracts a lot of tourists attention throughout the year.
People Also Read:
Temples In Philippines Temples In Texas Austin Temples
Looking To Book An International Honeymoon?
Book memorable honeymoon on TravelTriangle with 650+ verified travel agents for 65+ domestic and international destinations.