If Thailand's your next destination, get ready to be spellbound, as this list of best things to do in Bangkok Thailand will make your Thailand trip beyond just incredible! And the pool of exotic islands that surround the main land are like the icing on the cake! Besides, the list of things to do in Thailand and places that you can visit is the one that's never-ending. Be it in terms of history, architecture, food, night life, culture or just a beach side vacation, Thailand will not disappoint you. Here is a list of 22 places and things to do that one just cannot miss in their itinerary when traveling to Bangkok, Thailand.
24 Things To Do In Bangkok 
Wondering what are the best activities to indulge while holidaying in the Bangkok city? Whether holidaying with your friends or you love roaming alone, here are some of the most amazing things to do in Bangkok:
1. Tuk-Tuk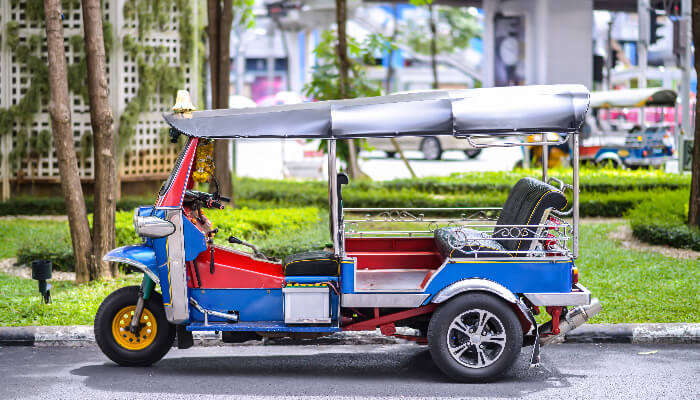 Talking about things to do in Bangkok and not including the iconic Tuk-Tuk Ride – Naah! This three-wheeled motorized vehicle is used as a cab in Bangkok since World War II. It's a fun way of navigating through the city's cramped lanes. But beware! Mafia Tuk-Tuk gangs are spread all over the place. If they lure you into knowing the most secret (read shady) places around, simply fold your hands and say, "mai ow krup". A ride on Tuk Tuk is undoubtedly unarguably the most famous thing to do in Bangkok. 
10 Thailand Zoos That Let You Witness The Best Of The Thai Wildlife
2. Floating Markets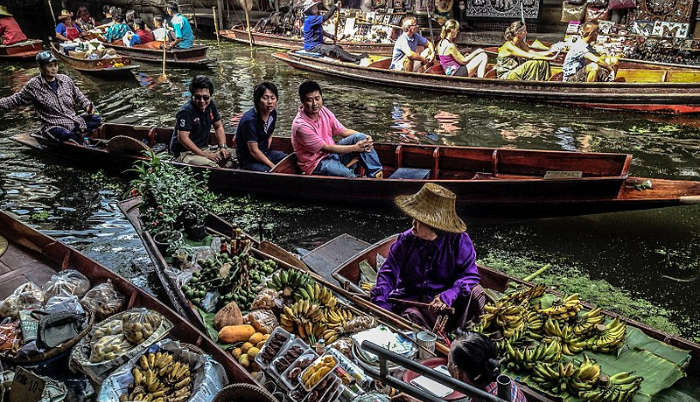 Image Source
Shopping in the floating markets of Bangkok is an experience that you just cannot miss. These traditionally set up floating markets in boats offer a peek-a-boo into the local way of life. Boats are piled high with all types of shopping items. But watch out! Once you step into the boat that could mean you can't step out without buying something.
3. Oriental Spa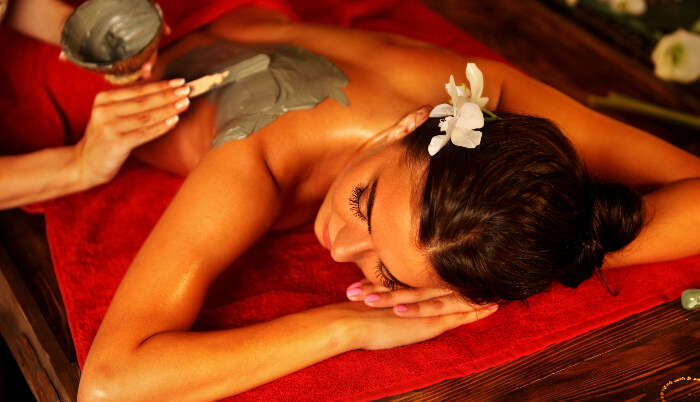 Oriental Spa is considered as one of the premier spas in the world. So it should undoubtedly be on the list of things to do in Bangkok, especially for couples. The serene atmosphere and the well trained Thai staff helps you relax and rejuvenate with your loved one. After all when the Thai land is calling, the Thai massage is an inevitable part of the call – get ready for some therapeutic romance! This is amongst the best things to do in Bangkok for couples.
6 Best Water Parks In Bangkok For Spending The Perfect Day With The Family
4. Chatuchak Weekend Market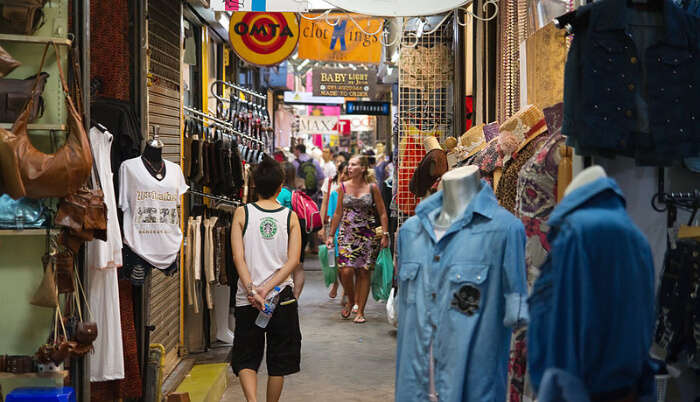 Image Source
Chatuchak weekend market, one of the largest markets in the world, seems to accumulate everything buyable possible like apparels, utensils, vintage items, food, etc. It requires a full day to explore this attraction in Bangkok. Want to beat the crowd? Reach the market around 9 am. But don't forget to wear your street smart hat on. Bargain hard and watch out for your belongings.
5. Thai Village Cultural Show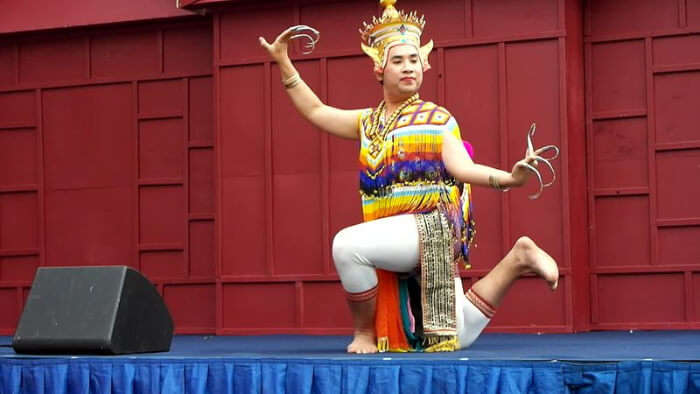 Image Source
If you want to delve deeper into the culture and tradition of Thailand, then Thai Village Cultural Show should top your list of places to visit in Bangkok. The show, located in the Rose Garden, includes: Thai boxing match, traditional Thai wedding, sword fighting and traditional finger nail dance. This is your shortcut to experience the culture of Thailand in a matter of hours.
12 Tips For Backpacking In Thailand: A List Of Do's & Don'ts
Planning your holiday in Thailand but confused about what to do? These Thailand travel stories help you find your best trip ever!
6. Tiger Temple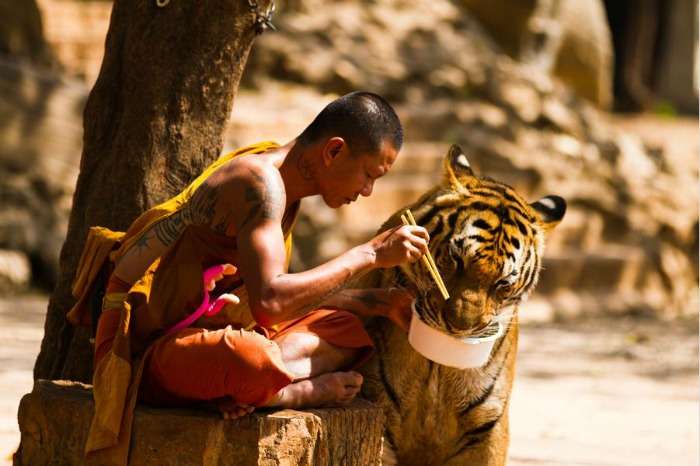 Image Source
Ever thought about taking a selfie with the big cat? Well everything is possible when you are in Thailand. The Tiger Temple, situated in Kanchanaburi, is a popular tourist attraction where tigers are being raised by the monks (no cages in sight!) You can watch the tigers doing their daily exercises and baby cubs being fed without any caged bars in between. If this doesn't thrill you enough, then you can also go ahead and take a walk with the wild tigers. One of our favorite things to do in Thailand!
7. Siam Paragon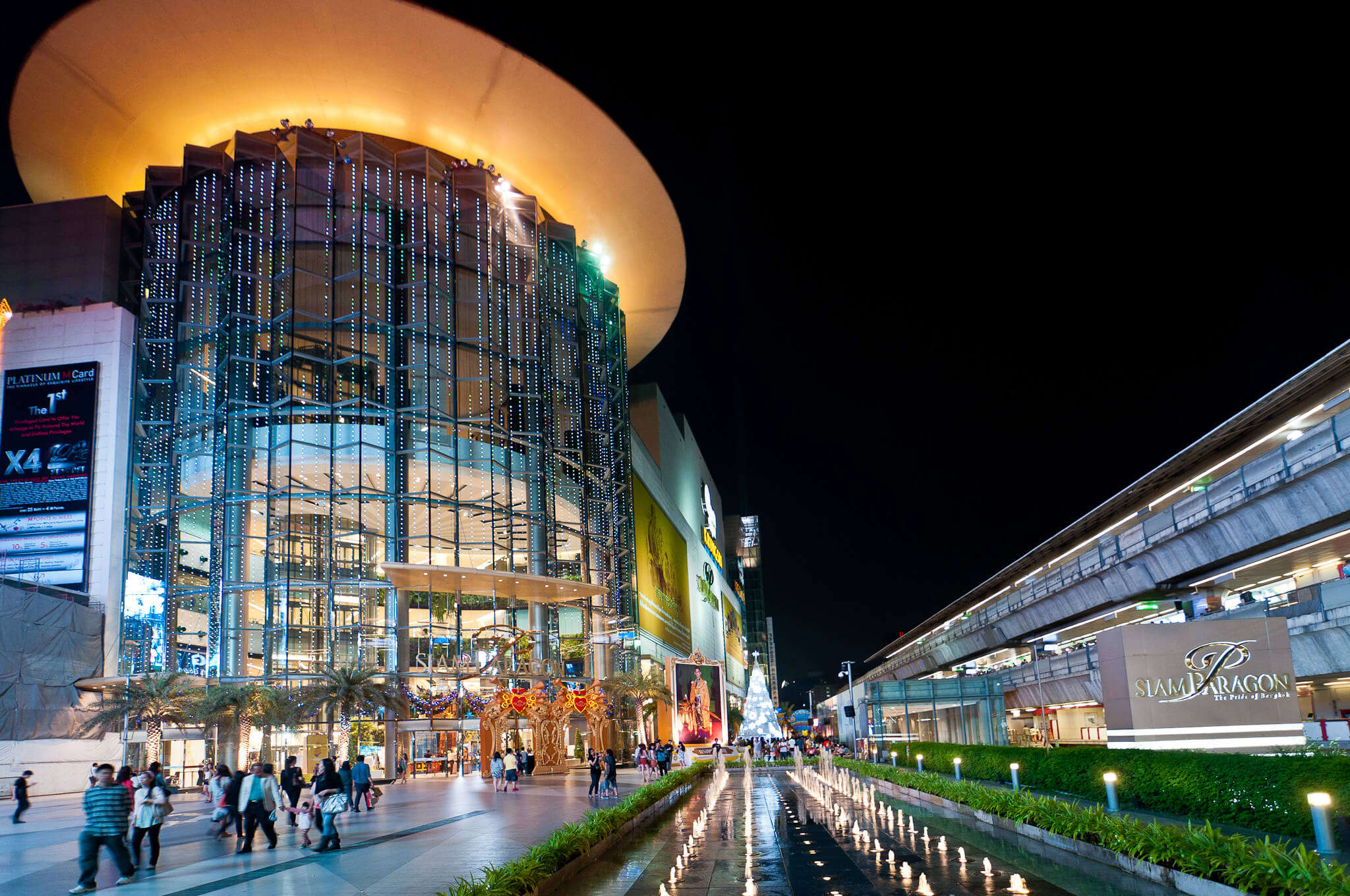 Image Source
Whether you are on a vacation with your family or on a romantic getaway, you cannot stay away from shopping! And what's better than visiting the 2nd largest mall in South East Asia. You'll find herds of restaurants, shops, bowling alley, art gallery, concert hall, etc. So shop till you drop!
10 Places To Visit In Thailand In August 2023 To Escape The Thai Monsoon
8. Elephant Show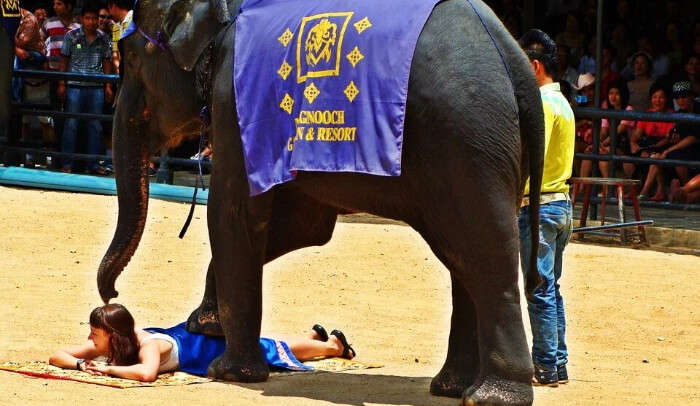 Image Source
Elephant shows are a regular feature in most parts of Thailand such as Ayutthaya, Bangkok, Pattaya etc. These shows give you the chance to see the giant creature shooting hoops, dancing, kicking soccer balls into goals, playing harmonica, hula hooping, etc. You'll be thrilled to watch this action packed elephant show presented in the most dramatic manner!
9. Khao San Road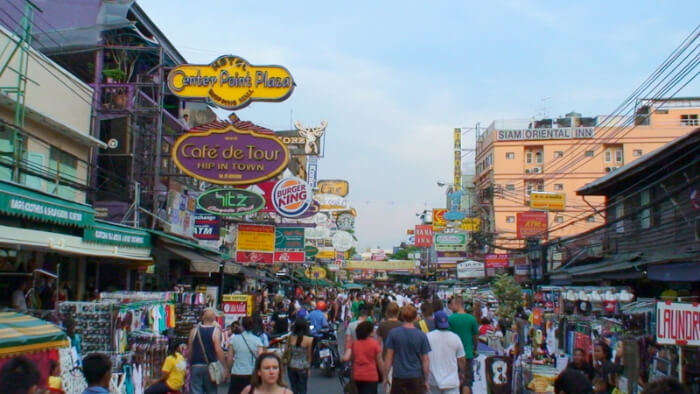 Image Source
This famously described road is well known especially in the circle of backpackers. Nevertheless it is an open source travelling experience for shopping, romantic dinner or just letting your hair down! This road houses everything ranging from shops, bars, clubs, etc. From cheap booze to bootleg DVDs – you'll find everything here. This mini entertainment capital within the capital should be on your list of places to visit in Bangkok!
6 Homestays In Bangkok That Allow You To Unwind Effortlessly On Your 2023 Trip
10. Wat Phra Kaew and The Grand Palace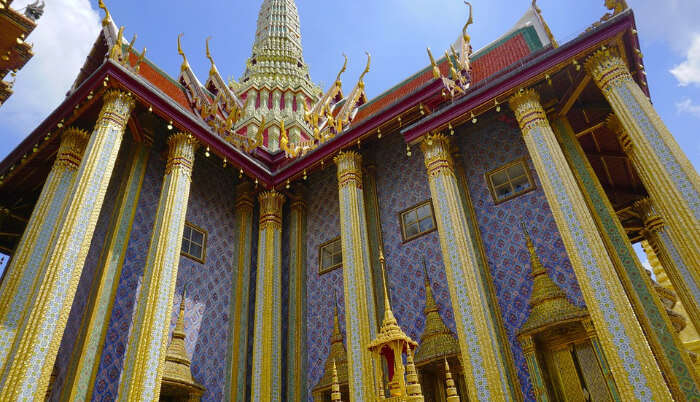 Image Source Wat Phra Kaew, also known as The Temple of The Emerald Buddha, is located in a fairy tale compound consecrated in 1782, the first year of Bangkok rule. It represents royal history and architectural experimentation in a tasteful manner. But hold on! It has more than just history to it. The place is surrounded by a range of Thai street food vendors! Well where there's food, everything else can wait!
11. Lumphini Park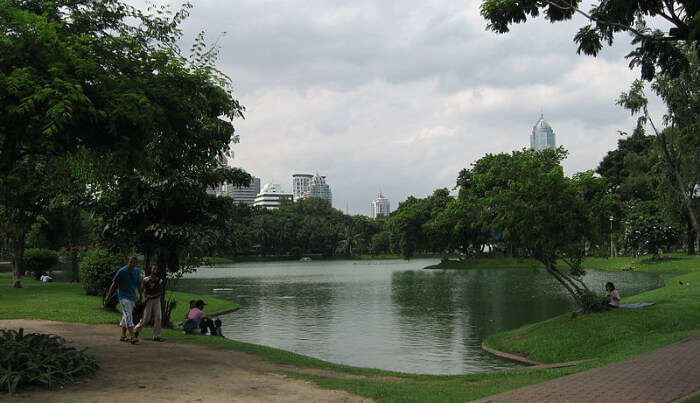 Image Source
If you want to get away from the hustle bustle of the city without actually leaving Bangkok then Lumphini Park is the place to be. It consists of artificial lake, shady paths, and boat rides. You can rent a variety of boats and indulge into a romantic getaway with a breath of fresh air. Serene Environment and some silent moments with your partner, make this park one of the best places to visit in Thailand.
 11 Reasons Why Bangkok Will Ruin Indians For Life
12. Koh Kret Island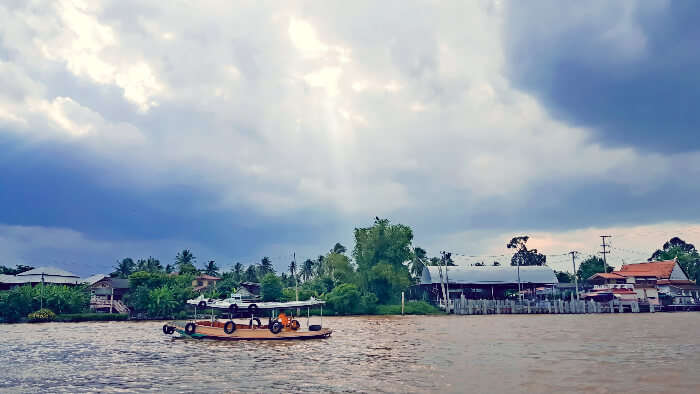 Koh kret is a little artificially created island built almost 300 years ago. It serves as a great escape for a fantastic day trip from Bangkok. It's even better if you visit this island on a weekend. There's a lot going on in its famous weekend market that rings a bell for some weekend shopping – one of the best things to do in Bangkok (at least to us)!
13. Vimanmek Teak Mansion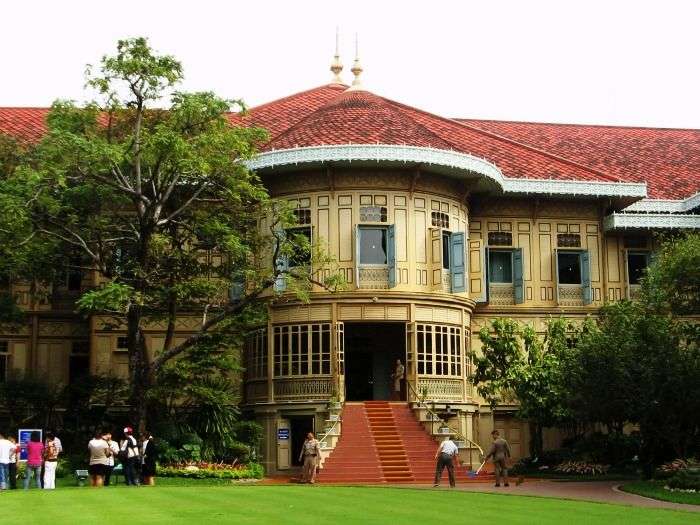 Image Source
This palace is yet another example of rich history of Thailand. It contains 81 rooms and is said to be the world's largest golden-teak building. The best part is, when you visit the Grand Palace, you also receive an entrance ticket for the mansion. So not only you save on your time, you also kill 2 birds with one stone oh! I mean 2 places with one ticket!
12 Kickass Water Sports In Thailand For The Water Babies
14. Wat Pho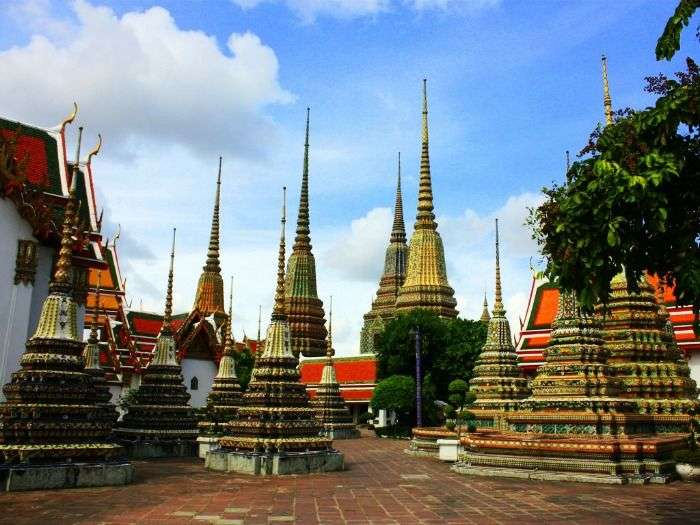 Image Source
This temple astonishes you with amazing features like the largest reclining Buddha, largest collection of Buddha images in the entire country and country's historical centre for public education. Whether you are with family or on honeymoon, this sight will truly captivate you. What's more – you get traditional Thai massage here! Call for a taxi or catch a river taxi to Tien Pier to get here.
15. Grand Pearl Cruise Dinner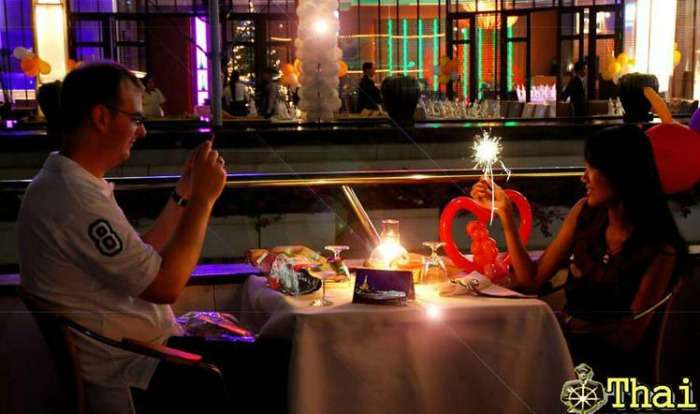 Image Source
An idea of a candle light dinner by the river will tempt you to book your tickets to Thailand. The dinner cruise on the luxurious Grand Pearly on the Chao Phraya River, while it passes by sights like the Grand Palace, should top your list of things to do in Bangkok. With cocktail in one hand don't forget to unwind your partner under the moonlit sky!
Top 10 Thailand Water Parks To Splash Around At With Family
16. Wat Arun Riverside 

Image Source
The stunning beauty of Wat Arun steals the show easily as one of the most stunning temples in Bangkok. The riverside location and the alluring designs makes the temple stand out from the rest. Partly made up of colorfully decorated spires, the temple offers a beautiful sight during the sunset. You can also climb the steep steps to central prang to unleash your adventurous side! You have to take a river taxi to Tien Pier and then cross the river via ferry to get to the temple.
17. Boat Noodles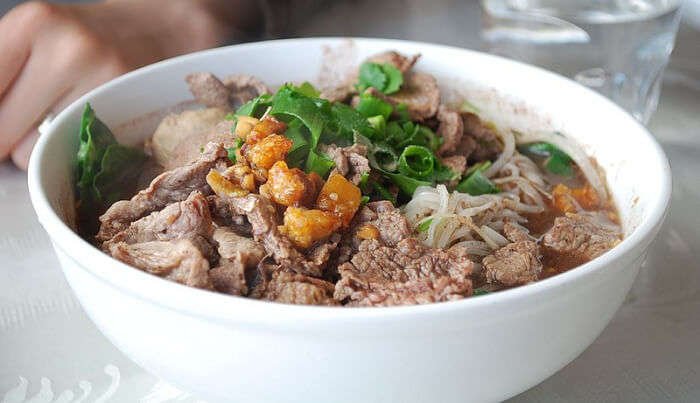 Image Source
We haven't heard of anyone who doesn't love to eat, that too on a vacation! When in Thailand, you must try the boat noodles. Head to the boat noodle alley at the famous Victory Monument and enjoy as many bowls of boat noodles as possible. We bet the more you eat, the more you would want to come back.
Here's Why Bangkok In December Is Better Than Any Other Trip To Thailand You Can Dream Of
18. Chinatown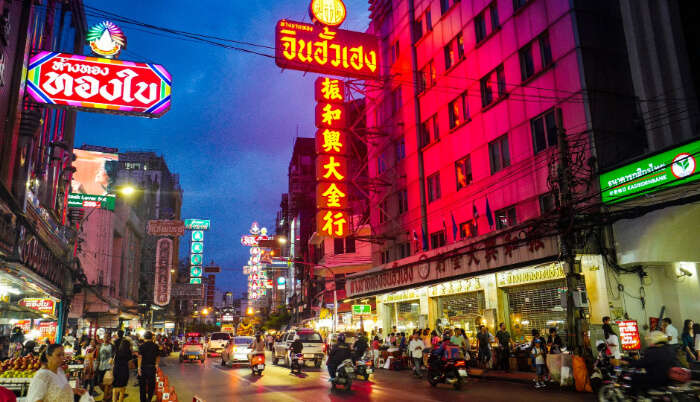 Image Source
As the sun goes down, Chinatown turns into one of the greatest concentration of street side cuisines. This is probably the best place to sample some great street food in Thailand at great bargain rates. The energy levels are exemplary if you plan your visit during festivals like Chinese New Year. Chinatown is at its best with bustling and packed market stalls. In your list of places to visit in Thailand, taking a tour of this place is one of the most interesting things to do in Bangkok.
19. Pattaya Beach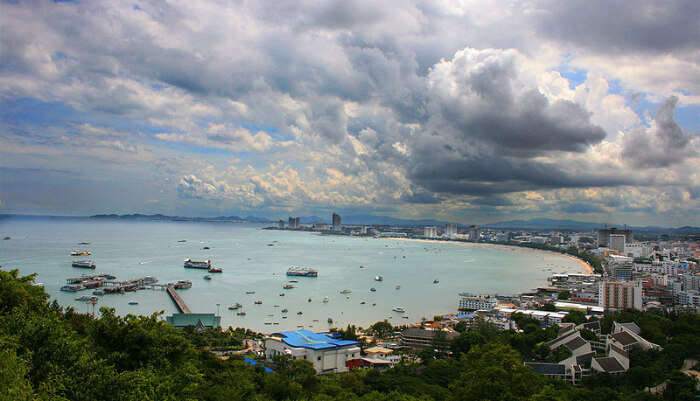 Image Source
Thailand consists of lots of small islands and beaches in the south which are famous for picturesque view and beautiful scenery. In case you cannot travel to remote beaches, try the Pattaya Beach. It is just a 2 hour drive from Bangkok and is no less than a full-spread beach. Water sports like snorkeling and kayaking should top your list of things to do in Pattaya.
10 Underrated And Not-So-Raunchy Experiences That Electrify The Nightlife Of Bangkok
20. Bangkok National Museum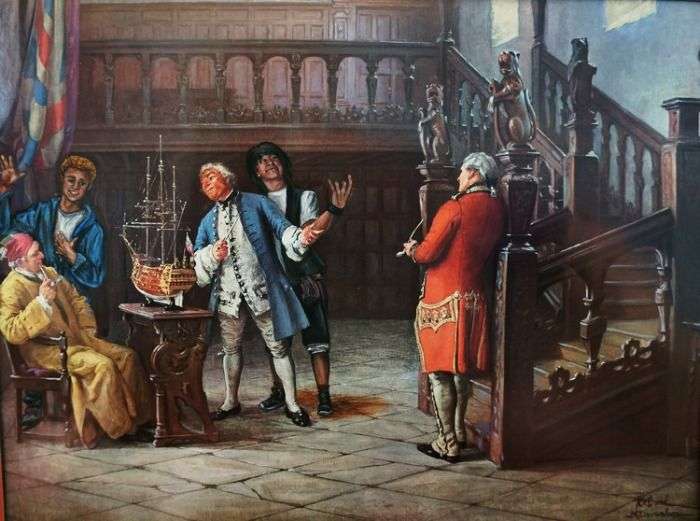 Image Source
If indulging into notable displays of art is your idea of romance, then Bangkok National Museum is where you should head. The highlight of the museum is witnessing a UNESCO approved piece of art – "The King Ram Khamhaeng inscription". Treat yourself with a compelling cultural and historical day trip to the Museum.
21. Sak Yant Tattoo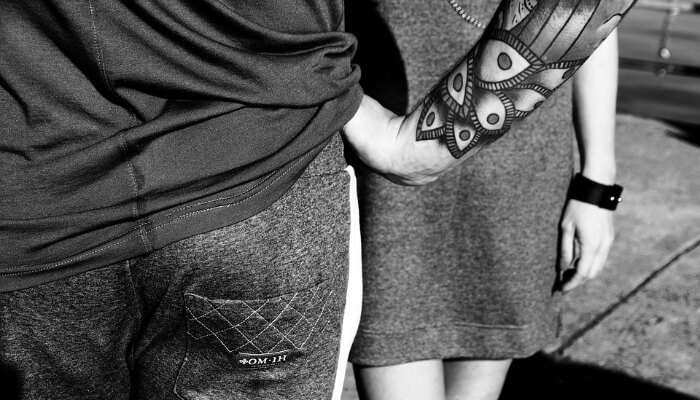 Image Source
If you are looking forward to a unique and a bit challenging things to do in Bangkok, you can a Sak tattoo done. Wondering what's different about it? This is a traditional Thai tattoo which is drawn using a different method. Unlike the usual tattoo gun used by the tattoo artists, this form of inking uses a metal rod. And in place of a professional artist, you will be met by a monk. In Thai culture, Sak tattoo is believed to have magical powers. Also, the design of your tattoo is decided by the monk, based on what you need protection from.
15 Holiday Homes In Thailand You'll Never Want To Leave
22. Pad Thai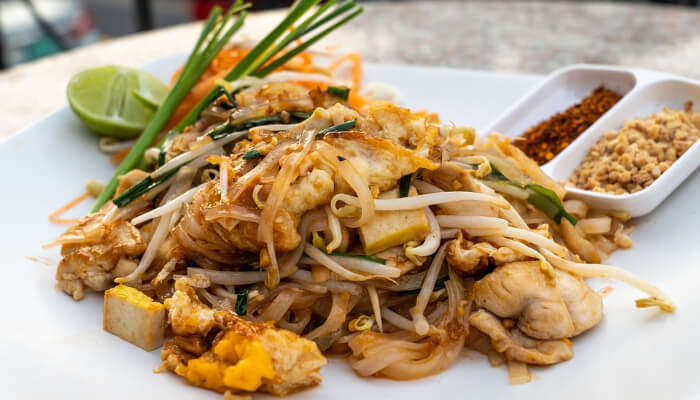 Image Source
Pad Thai is a special food in Thailand. It is made by the process of rehydrating dried rice noodles. These eggs and chopped tofu is added to the noodles while stir-frying them. Other ingredients including tamarind pulp, dried shrimp, fish sauce, garlic, pepper, red chili, and palm sugar are added for flavour. You can ask for your preferred additional ingredients in veg (bean sprouts, pickled radishes, garlic chives) or non-veg (fresh shrimp, crab, squid, chicken).
23. Take a tour of SEA LIFE Bangkok Ocean World

Siam Ocean World, one of the largest aquariums in Southeast Asia, spans an impressive 10,000 square meters and is located in the basement of the Siam Paragon shopping mall in Bangkok. With a vast collection of over 400 sea species and 30,000 fish on display, it is a must-visit destination for families looking for a fun and engaging way to spend a few hours.
10 Most Romantic Thailand Wedding Venues That Are Perfect For Your Big Day
24. Hop Through The Srinagarindra Train Night Market

The Srinagarindra Night Market in Bangkok offers a true open-air bazaar experience, with a vast selection of antiques and memorabilia, including antique furniture and fashion. Additionally, street vendors at the market sell trendy clothing and fashion items that can be found at other night markets in Bangkok.
Thailand calling! With so many things to do in Bangkok and innumerable places to visit in Thailand, it's time you call your friends or partner and head to Bangkok. So, plan a trip to Thailand soon and experience everything about this fantastic city. 
For our editorial codes of conduct and copyright disclaimer, please click here.
Frequently Asked Questions About Things To Do In Bangkok
What should I avoid in Bangkok?
Bangkok is an exciting place to be because of the nightlife and the beaches, however, there are a few things that you should avoid while you are there. For instance, you should not take a taxi that is already parked, sit next to a monk, wear revealing clothing while visiting a temple, and many more.
What is Bangkok best known for?
Bangkok is mostly famous for its nightlife and a range of landmarks that are located all across the city. There are a number of temples and monasteries that get frequent visits from tourists all around the world, ideally for the culture and architecture that they display. There are people who also find Bangkok amusing for its well known red-light district area.
Is it safe to visit Kasol during Covid times?
You need to follow all the mandatory safety guidelines mentioned by the authorities to ensure a safe travel experience. Remain masked while stepping out of the hotel and maintain social distance. Avoid visiting crowded places and keep sanitizing your hands after touching surfaces.
What can you do in Bangkok in 3 days?
If you are in Bangkok and have 3 days to explore the city, then you start with visiting the temples and religious locations such as The Grand Palace, Reclining Buddha, and Wat Pho. On the second day, you can taste the local delicacies in the popular eateries and bars, where you will find affordable cocktails as well. For the final day, you can hire and chill on a longboat and experience the sunset.
How much money do I need for 3 days in Bangkok?
Since you are in Bangkok for three days, you will need at least 5000 baht or Rs.12,000 approx. This will come in handy for exploring different locations, eating local food, and experiencing the nightlife.
What are things to learn before visiting Bangkok?
It would be beneficial for communication if you learn a few Thai phrases before visiting Bangkok. It will prevent you from getting cheated in shopping areas and also to build casual relations with the local people.
What is the most famous food in Thailand?
Among the many local delicacies, the traditional spicy shrimp soup also known as Tom Yum Goong is the most famous soup in Bangkok as well as all of Thailand. It consists of local herbs, spices, shrimp, boiler water and edible leaves.
Looking To Book An International Holiday?
Things to do in Glasgow Things to do in Chisinau Things to do in Mahebourg
Comments
comments